Are you planning to embark on a long motorcycle ride? Motorcycles are a fun and cost-efficient way to travel. However, for a successful trip, you have to prepare. To help you get ready properly, we have compiled a long motorcycle ride checklist.
Prepare your motorcycle
The first box to tick on your long motorcycle ride checklist is a motorcycle that can handle long distances. Touring is the best type of motorcycle for long endurance rides as they come with many features that make long-distance rides as convenient as possible. They also come with powerful engines and durable parts. However, you may be able to use other bikes for your trip.
The motorbike must also be in good condition. If possible, do a checkup before setting out. Ensure the brakes and suspensions are in order, and the seat is comfortable.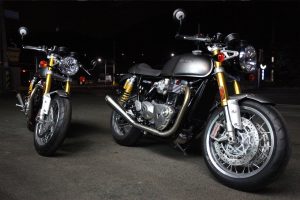 Get proper riding gear
Riding in the city is a different ball game from long trips. You need to get the proper riding gear, including a helmet, padded jacket, pants, boots, gloves, reflective vests, etc. If you just got the riding items, test them before setting out to make sure they fit and are comfortable.
Make sure you consider the weather so that you can wear the appropriate clothing. You don't want to be hot or cold on a bike at high speed. Also, if you must ride at night, wear a reflective jacket for your safety.
If it is likely to rain, take rain paraphernalia with you. If possible, wear rain-proof jackets and pants instead of overalls to save space and avoid flapping clothing when on the road.
However, avoid bringing too much gear or clothing on your trip as they can become a burden.
Toiletries
Your body needs remain even on a trip, so toiletries are long motorcycle ride essentials. However, avoid overpacking as you can get by with the basics. Include your toothbrush, soap, shampoo, deodorant, etc. You may leave out items like powder, lotion, perfumes, etc. Remember, you have limited space on your motorcycle.
Medicine
If you have medicines that you use regularly, the greatest mistake you can make is not including them on your long-distance motorcycle ride essentials. It may be difficult to get prescriptions along the way. You may also bring medicines for headaches, fever, upset stomach, allergies if you have any, etc. Don't forget an emergency kit for mishaps like wounds.
Repair tools
Remember to bring your tools if you are handy and repair your motorbike. This will help you quickly fix minor issues on your trip. You may not be able to bring everything or even the heavier ones. Pack spanners, duct tapes, tire-repair kits, headlight bulbs, spark plugs, etc.
Food and water
You need to keep nourished and hydrated for your body to cope with the rigors of riding a motorcycle on long trips. Carry a water bottle with you as it can be easily refilled in most places. Pack food items that do not perish easily, like energy bars or dried fruit.
You can also plan your itinerary to include spots you can stop over for a meal. These may be hotels or fast food joints.
Communication
It is vital that you maintain a means by which you can be reached at all times. You should also be able to contact people, especially when you need help or are stranded. So take a cell phone with you and bring the charger and power banks. You may even require the phone to get directions.
Money
If possible, bring cash with you but take extra precautions to avoid losing it or getting robbed. Separate the notes and keep them in different pockets. Credit cards or ATM cards may also be useful depending on where you are riding.
Conclusion
A great long motorcycle ride requires adequate preparation. Keep in mind that every item you bring should serve a purpose to avoid excess weight. You can cover the essentials by following the long motorcycle ride checklist in this article.