In addition to landscapes and interacting with people, enjoying local food is one of the greatest pleasures of traveling. Morocco is the paradise of couscous and tagine, but also of many other gastronomic delights unknown to the majority. In our motorcycle route through Morocco, crossing the desert and the Berber country, you can taste the typical dishes of this Atlas people. Discover with us the wonders of food in Morocco, another memory to add to your travel experience.
One of the best memories of any trip is gastronomy. The flavors, smells, and textures permeate the different traditional dishes and persist in our memories. The landscape, monuments, people, traditions, religion, and food form a compact set. We cannot do without any of its elements if we want to thoroughly know the culture of the country we are visiting. And all of this is especially relevant in countries with gastronomic traditions different from European ones. Since we have to eat to survive during the trip, let's enjoy Morocco by immersing ourselves in its gastronomic richness. The food in Morocco is an experience for the senses thanks to the great variety of traditional dishes, the ways of cooking, and the spices used to flavor them. Will you join us in discovering it?
Ingredients in Moroccan food 
The most iconic dishes of Moroccan gastronomy are a mixture of various ingredients that include meat, vegetables, fruit, bread, and of course, spices and condiments. The most well-known and used spice mix is ​​ras el hanout, a mixture that each cook prepares to their liking but includes sweet and spicy paprika, ginger, turmeric, cumin, saffron, and nutmeg. What a combination, right? Vegetables are always included in all Moroccan food. Eggplant, tomato, lettuce, onion, and olives have a very important weight. And of course, dried fruits such as dates or argan nuts! The most used meat in Moroccan cuisine is lamb and chicken, although preparations with beef and squab can also be found. Fish is usually eaten especially on the coast due to the extreme heat that usually makes its conservation difficult.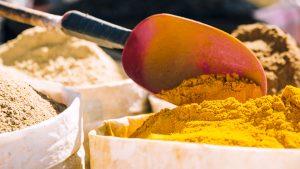 Discovering the typical dishes of Moroccan food 
Associating tagine and couscous with Moroccan food is automatic. They are the best-known dishes worldwide. Would you like to know how they are made and with what ingredients? 
Tagine: It is a stew that can be prepared with any ingredient. The only requirement is that it must be cooked in the characteristic earthenware pot with a conical lid, the tagine or in Arabic, tajinira. The tagine can include chicken, beef, or ox meat, lamb, fish, dates, raisins, apples, olives, almonds, eggs… You can travel for several days in Morocco without repeating the tagine! 
Couscous: The other traditional dish of Moroccan food is couscous. It is made with wheat semolina and includes vegetables and legumes, fruits, honey to sweeten, and spices. Some couscous can also include lamb.
Moroccan gastronomy is not limited to tagine and couscous. In our Triumph Rewards of Morocco motorcycle tour, you will travel through the Berber country and taste the traditional Berber pizza or Madfouna. It is an empanada that resembles a pizza for its round shape and is made with flour and wheat semolina. The filling, depending on the variant, can include minced beef, pork lard, vegetables, hard-boiled eggs, toasted almonds, and of course, spices such as turmeric, coriander, black pepper, ginger, or the combination that the cook usually uses.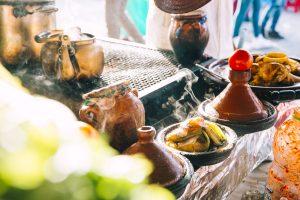 Other typical dishes of Moroccan cuisine that you can't miss include:
Pastilla de pichón or bastela

: one of the most popular dishes usually made with chicken or pigeon, almonds, and onions, with cinnamon and powdered sugar sprinkled on top.

Bisara

, a puree of fava beans that is very typical of Moroccan gastronomy.

Harira

, a traditional soup of noodles with chunks of meat, tomatoes, and lentils or chickpeas.

Sweets

, such as

chebakia

, made with flour, eggs, butter, toasted almonds, sesame, and honey;

sfenzh

,

briwat

, or sweet cous-cous, called

seffa

.
And all of this accompanied by fantastic Arab tea, green tea with mint, the traditional drink of Morocco, and freshly squeezed fruit juices!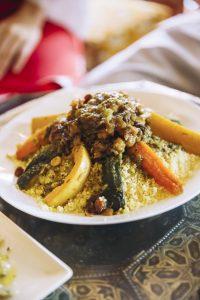 What to eat in Morocco if you are celiac 
Having celiac disease or gluten intolerance does not mean giving up the experience of traveling to Morocco. You just have to avoid cous-cous, bastela, harira soup because it usually contains flour, Berber pizza, and all bread, crepes, and sweets. 
But you can enjoy any tajine, meat or chicken skewers, kefta – minced meat served with tomato sauce and eggs, omelette bereber – an egg tortilla, or cous-cous only if they can guarantee that it is made with this cereal. Don't forget to bring gluten-free bread or cookies just in case and a card describing the disease in Arabic and French. 
In the main Moroccan cities, you can find restaurants with gluten-free options. Search the internet for the experience of other celiac travelers who recommend safe restaurants in Chauen, Fez, Marrakech, or Casablanca.
Recommendations for a healthy trip to Morocco 
If you are not used to traveling in Morocco, certain precautions should be taken to enjoy the trip and make the experience rewarding from start to finish. Although our guides will advise you throughout the trip, it is recommended to always drink bottled water or tea, not to eat salad, always peel fresh fruit, not to season food with mayonnaise or ketchup, and not to buy food from street vendors.
Discovering Morocco on a motorcycle and enjoying its cuisine is an experience that any motorcycle tourism lover would want to have once in a lifetime. Triumph Adventure Experience Spain puts it within reach twice a year with its guided tour Triumph Rewards of Morocco. 8 days traveling 2,000km on the road through the desert, visiting emblematic cities such as Marrakech, Casablanca, Merzouga, Risani, Erfoud or Chefchaouen, the blue city, and enjoying its cuisine. 
Don't hesitate to contact us for any questions or clarifications. We are waiting for you!