Do you love riding bikes and going on adventures? If yes, you may want to know the top bikes that can withstand adventures that are on the market. Going over all the brands on the market can be a chore, so we have compiled a list of the top five adventure motorbikes your money can get. Number 1 will surprise you!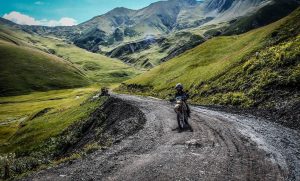 5. Royal Enfield Himalayan
The adventure bike was released in 2016 and has accumulated many fans and admirers. Unlike many bikes in this category that tend to be heavy and wieldy to control, the Himalayan is on the light side while still rugged enough to take on even the roughest terrain. This adventure motorcycle is also not expensive and does not come with excessive electronics.
The Himalayan is powered by a 411cc single-cylinder engine producing 24 bhp and 23.6 ft-lb. Fuel tank capacity is 15L.
The bike weighs 185 kg and rests on the front on 41 mm forks and on the rear monoshock.
Hop on the Himalayan when you want to go on an adventure at a leisurely pace.
4. Honda CB500X
Honda is a household name for bikes, and the ones it markets as adventure are impressive. The CB500X is a prime example of an entry-level model that is one of the best adventure bikes. It offers smooth performance, although it is more suited for road riding than off-roading.
The CB500X was refreshed this year but was originally released in 2013. It uses a twin-cylinder 471cc engine that is capable of 47 bhp of power and 31.7 ft-lb of torque, with a 17.7L tank. It has a seat height of 830 mm and a total weight of 199 kg.
The shock from the road is dampened by new Showa USD forks with dual twin-piston calipers in the front.
The CB500X is ideal for road riding and the occasional off-roading. It is excellent for first-timers to adventure motorbike riding.
3. Yamaha Tenere 700
The next on our list of the best adventure bikes is one of the most hyped in recent memory, and although it is relatively new, it already has a cult following. The big draw is the off-roading capabilities, but it is also a good-looking adventure motorcycle. The styling screams adventure, and you might be unable to resist the call of the road when you own one.
The Yamaha Tenere 700 focuses more on adventure thanks to the lack of complicated gizmos and riding aids.
Yamaha equipped the Tenere 700 with a twin-cylinder MT-07 689cc engine that outputs 72 bhp and 50 ft-lb of torque. Tank capacity is 16L, and seat height is 880 mm. The suspension in front is 43 mm KYB SUD forks, while the rear uses Sachs monoshock.
The Yamaha Tenere 700 is comfortable to ride for extended distances as it is at home both on asphalt and non-asphalt rough roads. It comes to a stop thanks to heavy-duty brakes.
2. Triumph Tiger 900 Rally
Triumph was on to a good thing when it released the Tiger 800 Rally adventure bike, but the release of the 900 showed that the company is not resting on its laurels. The new version is offered as Rally, Rally Pro (both geared toward off-roading), and the GT and GT Pro for road riding.
The 900 is a complete redesign, equipped with an 888cc inline three-cylinder engine that smoothly produces 94 bhp and 64.17 ft-lb of torque, drawing fuel from a 20L tank.
The suspension at the front is provided by 45 mm Marzocchi USD forks that are adjustable manually, while the rear can be adjusted electronically. You can select from several options of riding modes.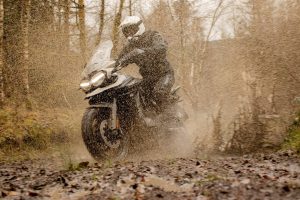 1. Triumph Tiger 1200 Rally Pro
Rounding out our list of the best adventure bikes is the Tiger 1200 Rally Pro, an excellent choice if you need more power for your rides. The 2022 model is an overhaul of the Triumph Explorer, and the company has been able to add multiple improvements. For example, the bike is 25 kg lighter, uses a new chassis, and sports a new Showa semi-active suspension.
The 1200 Rally Pro uses a 1160cc inline three-cylinder engine producing an impressive 18 bhp and 95.9 ft-lb, coupled with a 20L tank. You can upgrade to a 30L tank for extending adventure riding.